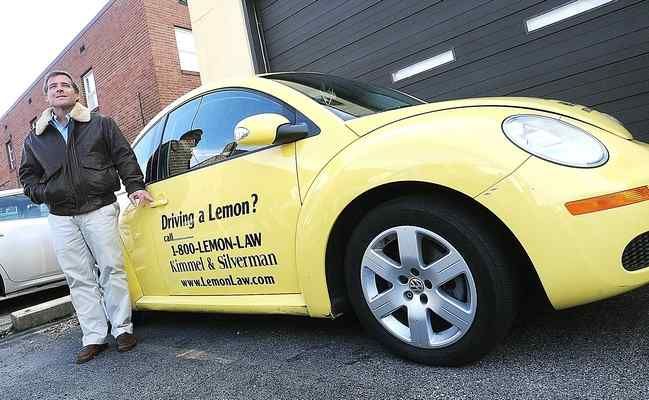 AMBLER — In their 20 years together, Lemon Law experts Bob Silverman and Craig Kimmel have squeezed more lemons than Minute Maid.
Silverman was a defense lawyer going to bat for doctors in medical malpractice cases, while his best friend Kimmel was representing plaintiffs in personal injury situations when the men decided that the folks who were being dealt lemons by the big auto makers needed them more.
That's when the Northeast's first full-service Lemon Law firm Kimmel & Silverman, now located at 30 E. Butler Pike in Ambler, was born.
"I wanted to do something more consumer oriented and wanted to be helping people instead of defending corporations in commercial litigation," said Silverman, who had actually started off doing "general consumer work. I handled a lemon law case against a car manufacturer and they fought back like crazy in federal court. But our victory was sweet and we soon realized that nobody was helping consumers in lemon law cases for free back then. So we started taking more and more cases."
Since then, nearly 70,000 disgruntled vehicle owners have taken advantage of K&S's cost-free savviness, which has recovered more than $165 million for clients.
Over the years, the firm has successfully represented consumers in class actions against many auto makers, while the practice grew to embrace automotive dealer fraud claims and unfair trade practice litigation.
The Pennsylvania Lemon Law was enacted for the sole purpose of protecting consumers from buying or leasing new or used, but largely faulty, vehicles and seeks to ensure that the manufacturer of the vehicle repairs any defects that were originally covered under the manufacturer's warranty and were duly reported by the owner.
"The law says that if the manufacturer breaches that warranty by failing to fix the car or product within a reasonable amount of time, or can't fix it, the consumer is entitled to a refund, replacement or money damages, plus, the manufacturer's got to pay the consumer's legal fees," Silverman noted.
"The beauty of it is that we're so confident that we can prevail that we don't charge our clients a retainer or contingency fee. We represent you for free and we don't get paid unless we win or settle your case.
Then the manufacturer has to include the fees in the settlement or offer them separately."
The firm shrewdly nailed down the rights to an insanely memorable hotline number (1-800-LEMON LAW) and website as well (www.lemonlaw.com), where visitors can access all kinds of pertinent information and case examples at no charge.
The staff of 40 employees and 14 lawyers field about 100 calls every day, and not everyone has done their research before calling in, Silverman allowed.
"The calls are from people that have all kinds of problems. Some of them have cars from the '80s or no warranty and people who haven't even taken the car back yet to give the manufacturer a chance to fix it.
We get cars that are so old they're outside the statute of limitations."
But when the lemon-ized individual is truly qualified to receive help, he or she will be assisted by a firm that has won numerous accolades and awards for its work, including being dubbed the "Super Lawyers" by Law & Politics magazine.
"We can usually help someone who has a problem with a factory warranty that wasn't fixed right in a reasonable amount of time, as long as the car isn't too old," Silverman said. "We don't really want to see a car that's over six years old, unless there are especially bad circumstances."
Between them, Silverman and Kimmel have pruned more lemons than a lemon tree farmer and have gotten hundreds of unsafe vehicles off the road.
"I've been around Lemon Law a long, long time and I've seen every case you could imagine … water leaks and mold, where the mold got so bad and when the client bought the car the mold was coming out of every single screwhole and gap in the car on the outside. It was so bad the neighbors called the police and the EPA and wanted that car removed because it was a hazard."
That particular car was a General Motors product, but Silverman could cite examples from all manufacturers, he said.
"Ford is a pretty good manufacturer. Not that they haven't had problems, but when they do they step up to the plate and take care of their customers. If the same problems come up with Ford or GM, the companies will admit they're wrong and say let's buy this car back and be done with it. Not Hyundai. They fight and they lose their customers in the process. It's a very bad way of doing business."
Currently, Hyundai may be leading the least in aggravated clients.
"There's a slew of cases against Hyundai for the 2011 and 2012 Sonatas and also Elantras where they that can't be aligned properly and are all over the road," Silverman said. "There have been several recalls
on the Hyundai Sonata hybrid, for major engine and battery problems."
Even after two decades of being a Lemon Law king, Silverman said he's still passionate about his work.
"I've represented senators and court judges, and they all refer cases to us," he said.
"I like helping people and it's great to be in a practice where you make a good living but you can also sleep at night knowing that what you do is a good thing … that you relieved people of some really unsafe cars."